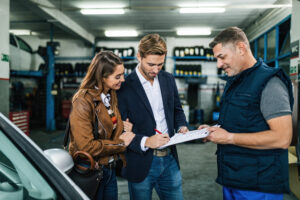 STAR's Servicing Scheduling API
The approved Service Scheduling API provides a domain model that maps the automotive service scheduling process. Included in this are industry standards related to the dealership's identifier and vehicle information. Vehicle mileage, appointment history, service advisor availability, recommended service list, transportation options and more are included in this release.

This API standard assists dealers, software vendors, and OEMs alike in creating interoperability between consumer websites, mobile apps, and dealership systems to offer seamless online scheduling options for consumers. This contributes towards increasing consumer demands for enhanced digital experiences within automotive dealerships.

STAR's Service Scheduling API is available to OEMs, Dealers, and Automotive Technology Providers at no charge. If you have any questions, please contact us at
info@starstandard.org
This release is a continuation of STAR's ongoing efforts to release more API standards for the automotive industry throughout the year. The approved API standard is already in use at Nissan North America and Toyota Motor North America.

As with all of STAR's standards, these launches are the result of collaborative efforts and best practices across STAR's members- OEM executives, retail automotive Dealer Principals, representatives from the National Automotive Dealers Association (NADA), and leading technology providers. STAR's Service Scheduling process standards API is free and available for download to businesses worldwide.